On Memorial Day in 2007, a violent tornado happened in southeastern Colorado. Our storm chasing tour group witnessed the tornado from birth to its death. But, something else interesting also happened. The local cellular tower was damaged in the resulting hail storm. I attempted to call the NWS office in Pueblo to inform them a tornado was in fact occurring, but couldn't.
Thankfully, I never actually rely on my cell phone as a reliable form of communication. I'm an amateur radio operator and always have a ham radio in my chase vehicle for situations just like this. While most NWS Warning Forecast Office locations also have a ham radio, I wasn't entirely sure of local repeater frequencies. And, we were pretty far from Pueblo. So, even if there was a local repeater, I wasn't sure if it'd be able to handle the distance.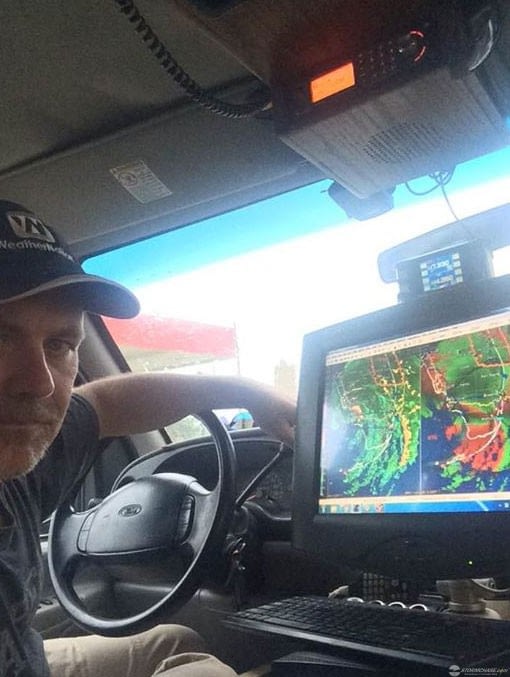 I did the next best thing, I called the police and I did so using my radio. I also have a scanner and was able to capture the local police frequencies earlier in the day. Police officers generally are not happy when non-police use their radio frequencies. But, this was an emergency (tornadoes are always emergencies). The Federal Communications Act does indicate that in the matter of extreme emergency, anyone can use any means necessary to save a life.
Using my radio, I announced who I was and what the emergency was. I stated why I was using radio, and that it was allowed within the provisions of the Federal Communications Act. I further requested that they use a landline to contact the NWS because cellular communications were inoperable. At the end of the short conversation, the person I spoke with thanked me for relaying the information. While they might have frowned on the initial call, at the end of the day it shed a positive light on storm chasing. It showed that there were storm chasers who cared deeply about providing life-saving information during an emergency. That's a good thing!
Ham Radio Usage is Declining
Over the past decade, a lot of technological innovations have changed the way we chase storms. While I still consider ham radio communications to be an extremely important part of my chase rig for emergency communications, I no longer depend on my ICOM dual-band radio as much as I did just five storm seasons ago. Then, it was an integral part of my chase rig and used for nearly all communications.
Ham radio itself is struggling. The American Radio Relay League constantly launches marketing campaigns aimed to increase awareness of amateur radio. Dealers have had to make a choice of either staying as a traditional "brick and mortar" shop or compete online in a global marketplace.
Last month, Tornado Alley lost a well-known ham radio dealer. Burghardt Amateur Center in Watertown, SD declared that it will no longer sell new ham radio equipment. As a result, they will become "Burghardt Radio Repair Inc." and will only service radio equipment.
Radio equipment, like all other techie gizmos, has reached a price where its often cheaper to replace a dead radio with a new radio under warranty than to repair the dead unit. That is of course as long as we're talking about the typical handheld or land-mobile radio platform and not base stations in excess of $10K.
Why Ham Radio is Still Important to Storm chasers
Sadly enough, over the next decade, ham radio usage will continue to decline. Perhaps today's K-6 kids who will one day dominate Tornado Alley won't even know what a radio transceiver is. Storm chasers should advocate that ham radio is a critical piece of equipment to have in your chase setup – simply because the whole purpose of ham radio (while chasing) is to provide emergency communications when all else fails.
Many things could happen to create a disruption of cellular communications in Tornado Alley, and especially when working in the proximity of supercells or squall lines. Even if the nearest cellular tower to you remains operational, the power grid and phone system of the receiving end of your phone call may not be. Ham radio still fills the gap during these emergency situations, and at least for the foreseeable future that isn't going to change.
We're already seeing post popping up on storm chasing bulletin boards with titles such as "How many chasers still use ham radio?" Topics such as this should not even exist. While true that cellular technology and social media channels create an easy way to disseminate ground truth information. There is however a chance that cellular infrastructure could fail, especially in larger storm events such as hurricanes.
Storm chasers operate near extreme weather. And as such, they should have reliable communications. If you don't have a ham radio license and a radio in your chase rig, you're doing it wrong. Get licensed and advocate others to do the same.